our solutions
Service Delivery Architecture
overview
Service Delivery Architecture
Global Paradigm's Service Delivery Architecture is a framework to provide IT Management Consulting. This framework uses a five-phased approach. As a part of the Service Delivery Architecture we advise on the most appropriate technology, build it, operate it, provide adoption services, assist in training and talent acquisition to effectively operate the technology, then gradually transfer operations to the new team.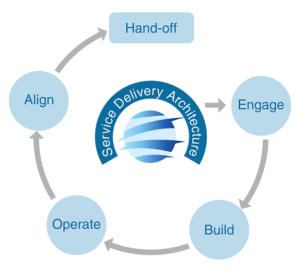 Engage Phase
The Engage Phase of this project is the detailed assessment and planning that incorporates a discovery process, analysis, and assessment of internal capabilities and gaps. The outcomes of this phase are detailing the service offerings and outlining the plan for the Build Phase. This phase of the Service Delivery Architecture is designed to use an information based decision making process that enables us to provide the best strategy to our client to incorporate new services into their portfolio mix, while aligning with their internal processes. The intent of this phase is to help our clients to get a budgetary idea of their investment requirement and revenue projections as these Service Offerings are launched.
Build Phase
At the completion of the Engage Phase, Global Paradigm team will present the proposal and detailed Scope of Work for the Build Phase based on the solution identified in the Engage Phase. In the build phase, Global Paradigm will implement the action plan developed and estimated in the engage phase. The build phase includes detailed budgeting and time-frames that include: initial startup costs, budget planning for additional reoccurring fixed costs, and budget planning for additional reoccurring marginal cost. The detailed budget and time frames will also detail operations-related stakeholders that must be involved and their expected involvement level in each phase or stage of the build process.
Operate Phase
In the operate phase Global Paradigm will step-in and fill any performance or coverage gaps in the 24 x 7 support cycle that we identified in earlier phases. Global Paradigm will assist the management team in recruiting, vetting, and on-boarding full-time resources to address gaps that our team is temporarily filling in for. Global Paradigm will train our client's service delivery managers, assisting in the development of a quarterly business review process, including template creation and mentoring on how to run the QBR, as well as, how to identify new sales opportunities through the QBR process. Throughout the duration of the Operate Phase Global Paradigm's technical support and operations management team will provide continuous mentoring and process training to client's operations team.
Align Phase
In the Align Phase Global Paradigm will build out a process to transition any and all services provided by our team to client's internal team in a manner that is imperceptible to client's end customers. This phase includes identifying any remaining skillset or resource gaps, coordinating specific formal training by manufactures and external training partners, as well as mentor-based training from our subject matter experts to address any remaining knowledge-gaps in the offering mix. Global Paradigm will also provide an orderly transfer of responsibilities still performed by our team and down-scaling of outsource activities performed by our team.
Hand-Off Phase
In the Hand-off Phase, Global Paradigm assumes a primarily advisory role. We monitor operations and provide guidance to client's internal network operations group. This phase includes escalation support with accompanying lessons learned training about how the client team might handle a similar situation without support in the future. The Hand-off Phase also includes any necessary capacity trend analysis and resulting growth management strategies.
Global Paradigm is always accommodating our diverse needs and we feel like they are a part of our company rather than an external supplier.
John H. Bedard, Jr